Deprecated: preg_replace(): The /e modifier is deprecated, use preg_replace_callback instead in D:\www\www931\kunstpanorama\wp-includes\formatting.php on line 76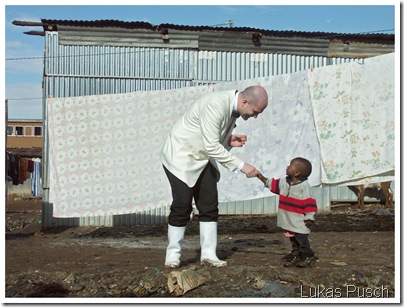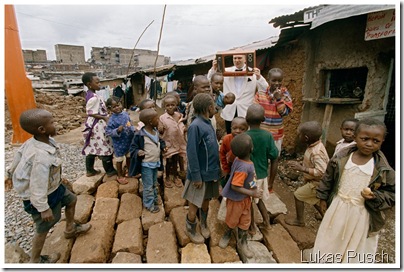 Vienna Voodoo und Slum TV
Im Mai 2006 gingen Alexander Nikolic, Sam Hopkins und ich nach Mathare, dem größten Slum von Nairobi mit rund 700 000 Einwohnern.
Wir wollten dort meine Kunst-Performance realisieren.
Drei Tage im mit Scheiße, Kadavern und Aids-Kranken übersäten Morast Mathares.
Im weißen Smoking.
Ich wollte zwei Welten auf einem Bild vereinen.
Die Perspektiven wechseln.
Kapitalistischer Realismus.
Jene Realitäten vereinen, die sonst durch Grenzzäune und Sperranlagen getrennt sind.
Die Bewohner im Slum freuten sich, wenn sie mich im Anzug sahen.
Sie waren nicht schockiert.
Im Gegenteil, ich symbolisierte für sie Normalität.
In ihrer Realität ist jeder Weiße reich.
Für sie war der schöne Anzug eher Ausdruck des Respekts als der Provokation.
Unser Blick auf Afrika ist maximal ein mitleidiger.
Hungernde Kinder.
Krieg.
Aids.
Wir kommen darin nicht vor und wenn als Samariter,
Humanitäre Hilfstruppen oder Ärzte ohne Grenzen.
Sozialarbeiter.
Julius Mwelu und Fred Otieno leben im Slum. Sie sind dort aufgewachsen.
Sie arbeiten als Filmer und Fotografen, dokumentieren das Leben und Sterben im Slum.
Sie schreiben eine Geschichte des Slums.
Eine Geschichte, die sonst niemand schreibt.
Gemeinsam mit Nikolic und Sam Hopkins dokumentierten sie meine Slum-Performance.
Was als "Making of Vienna Voodoo" begann, entwickelte sich mit zahlreichen Interviews zu einer kleinen Dokumentation über Probleme und Perspektiven in Mathare und einem ersten gemeinsamen Test für unser nächstes Projekt: Slum TV.
Vienna Voodoo and Slum TV
In May 2006 Alexander Nikolic, Sam Hopkins and I went to Mathare, the largest of Nairobi's slums with about 700,000 inhabitants.
We wanted to realize my art performance.
Three days in the swamp of Mathare, impregnated with shit, people and rat cadavers, corpses of vermin and scattered AIDS-patients.
The performance with my white tuxedo was a part of my Vienna Voodoo Series, which will also come out as a separate photo edition.
I wanted to show two worlds in one picture.
The perspectives change.
Capitalist Realism.
Realities join together, when normally they would be separated by border fences and restricted areas.
The inhabitants of the slum were happy when they saw me in a suit.
They weren't shocked.
On the contrary, I symbolized normality for them.
In their reality every white person is rich.
For them the nice suit was more an expression of respect than a provocation.
Our view of Africa is at the most a compassionate one.
Starving children.
War.
Aids.
We don't appear there, except as Samaritans, Humanitarian Aid workers or Aerzte ohne Grenzen (Doctors without borders).
Social workers.
Julius Mwelu and Fred Otieno live in the slum. They grew up there.
They work as film maker and photographer and document life and death in the slum.
They're writing a story about the slum.
A story nobody else is writing.
Together with Nikolic they document my slum-performance.
What began as 'Making of Vienna Voodoo' developed with numerous Interviews to a small documentary about the problems and perspectives in Mathare and a first general test for our next project: Slum TV.
VERNISSAGE 5. September 2008, 19:00 UHR
GruppenAusstellung vom 6. SEPTEMBER BIS 5. OKTOBER 2008
Öffnungszeiten: Mi - Fr 14:00 bis 19:00 Uhr / Sa und So 14:00 - 17:00 Uhr
Neuer Name, neue WebAdresse: kunsthalleluzern.ch