Deprecated: preg_replace(): The /e modifier is deprecated, use preg_replace_callback instead in D:\www\www931\kunstpanorama\wp-includes\formatting.php on line 76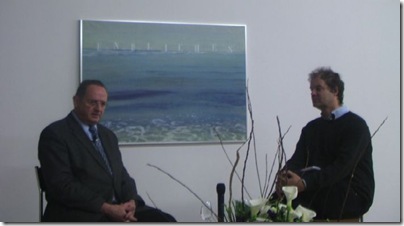 Das Video in YouTubes "höherer Qualität" ansehen --> hier.
Das Gespräch haben wir am 26.11.2008 in der Kunsthalle Luzern aufgezeichnet. Sie sehen den 3. und letzten Teil.
Till Velten ist Künstler und Leiter Master of Art in Public Spheres an der Hochschule Luzern Design und Kunst.
Niklaus Wicky ist Geschäftsführer eines Bestattungsunternehmen in Luzern.
Hinweis:
Wer unsere Räume schon besucht hat, ist über die schlechten akustischen Verhältnisse im Bild. An diesem Tag hat Nachbar's Ventilator erbarmungslos zugeschlagen.
Was mir erst jetzt auffällt, beim der Veröffentlichung des letzten Teils, ist der Zusammenhang zwischen dem Ventilator und dem Thema. Das Gespräch geht um Bestattungen. Zu diesen gehören auch Kremationen. Plötzlich sehe ich das Bild einer dieser Feuerungsanlagen vor mir und ich frage mich: "Setzt jetzt nicht eine solche Anlage ein?"
---
Vorschau:
Nils Nova - Schatten voran - Vernissage: 20. März 2009 / 19 Uhr, mit DJ und Bar
Ausstellung vom 21. März bis 3. Mai 2009
Künstlergespräch: Freitag, 10. April 2009 um 18:00 Uhr
Weitere Informationen –> hier.
---